History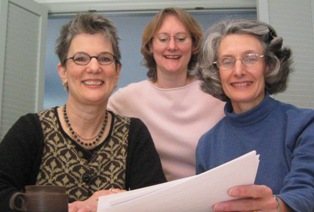 There were several attempts to establish a writer's group here in Berks County, PA over the past couple of decades.
For example, in 2003 three people (Judith Kraines, Jane Palmer, and CJ Rhoads) started meeting monthly as the Berks Writers Group to discuss their writing and help support each other. They met for almost a year, but eventually disbanded as they were unable to attract many more people.
A few years later, several students in a writing class at the GoggleWorks Center for the Arts in Reading began to meet at the Pagoda.
But it wasn't until Linda (aka L.T.) decided to focus on the group that meetings really took off. The group grew slowly at first, but within a few years, because of the dogged determination and enthusiastic promotion of Linda., more and more people started to come. Generally speakers are very high caliber, and the monthly sessions are usually a lot of fun.
The workshops are always worth the price of admission, (which is basically whatever you choose to donate). The Pagoda Writers do not charge a fee to participants, but we appreciate whatever you are willing to donate.
Originally a portion of the donations went to The Foundation for the Reading Pagoda, who allowed us to meet on the second floor each month until February 2017. Unfortunately, in February 2017 the Foundation for the Reading Pagoda Board made a decision to stop providing us with space because our donations were not enough, so we had to find a new home.
Please come and join us - we'd love to have you. Any age. Any occupation. If you can write a single word, you are welcome!